:::
BSMI and the Consumers Foundation Jointly Released Test Results of Magnetic Toys
Date:2021/04/08
Hits:1410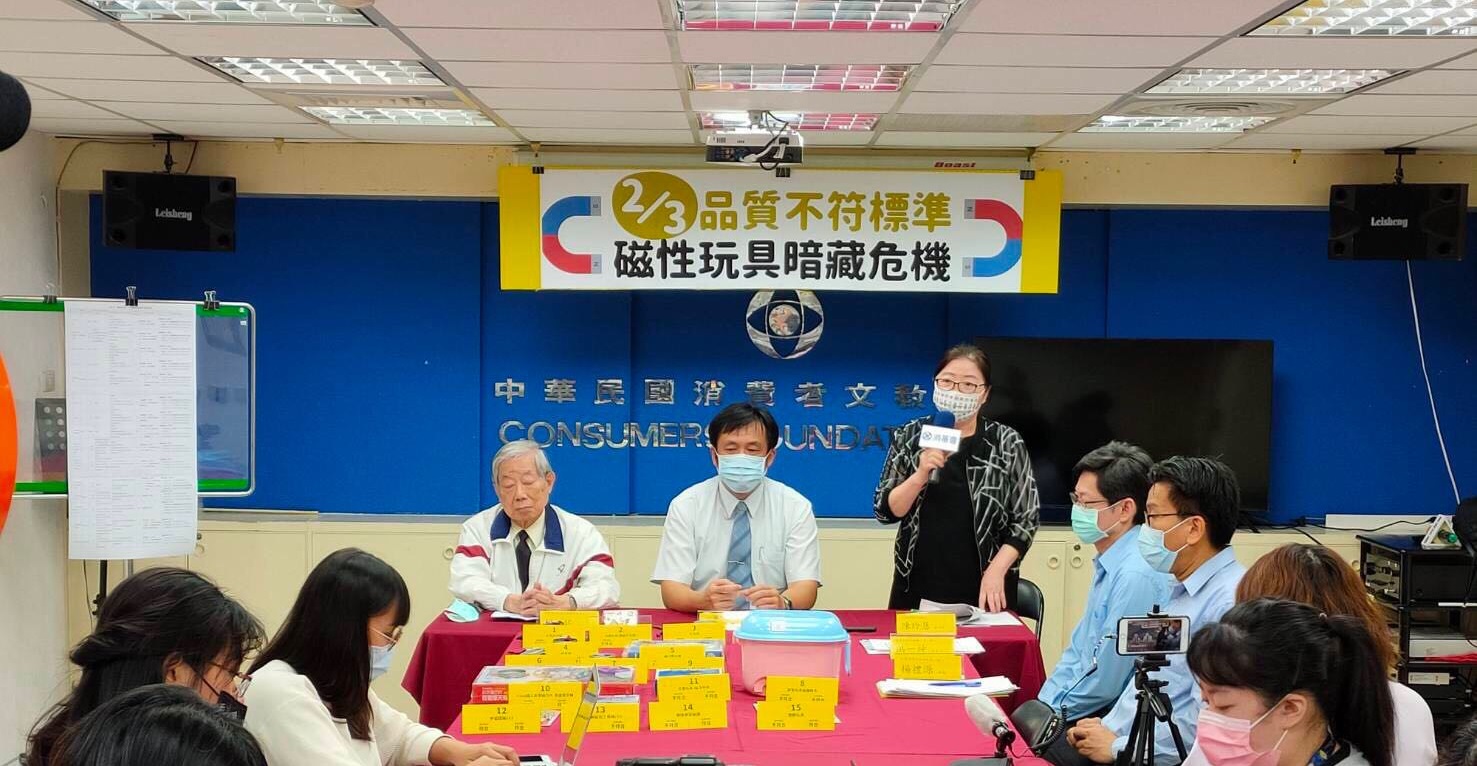 The Bureau of Standards, Metrology and Inspection (BSMI) in collaboration with the Consumers Foundation released the test results of 15 magnetic toys randomly purchased from the market in 2020 to check their compliance with relevant requirements. They were subject to testing of quality items and labeling checks in accordance with CNS 4797 "Safety of Toys (General Requirements)." The results showed non-compliance of 10 products in quality tests, 4 products in Commodity Inspection Mark, and 12 products in Chinese labeling.
The BSMI indicated that the magnetic toys purchased included Buckyballs, magnetic building blocks, magnetic clay, magnetic chess, magnetic cards and other magnetic toys. The main reasons for non-compliance were their small parts and strong magnetism, which may be accidently swallowed by children and stick to one another through the walls of the stomach or the intestines, causing serious injuries such as gastrointestinal perforation.
The BSMI urged consumers to buy magnetic toys bearing the Commodity Inspection Mark. When shopping, consumers are advised to check the availability of Chinese labeling and select age-appropriate toys for children by reading carefully the information on suitable age, cautions, warnings and instruction of use.
The BSMI highlighted that there were several reports on gastrointestinal perforation of babies or toddlers accidentally swallowing Buckyballs. To ensure safety of children, Buckyballs have been in the scope of mandatory inspection products since October 1, 2019 and have been prioritized in BSMI's safety monitoring programs. The 6 Buckyballs tested were imported and released from production premises prior to the effective date of pre-market control measure. All of the Buckyballs failed to comply with national standards because of their small size and strong magnetism. Measures taken by the BSMI on these noncompliant products included order of recall of the 6 Buckyball toys by the manufacturers in accordance with the Consumer Protection Act, and order of corrective actions by manufacturers of the other 4 magnetic toys with nonconformity in quality items in accordance with the Commodity Inspection Act.
The BSMI indicated that magnetic toys are subject to mandatory inspection and are not allowed to be released from production premises or imported before completion of the inspection procedures. The BSMI implements an annual market surveillance program to continuously monitor the safety of products on the market. In case noncompliant products are found, the BSMI looks into the causes, makes an interview report and take actions in accordance with relevant regulations.
BSMI Spokesperson: Chen, Ling-Hui, Deputy Director General
Tel. (O): +886-2343-1709
Email: lh.chen@bsmi.gov.tw
Responsible Person: Chiou, Mei-Chu, Deputy Director, 2nd Division
Tel. (O): +886-2343-1763; Tel. (M): +886-933-013439
Email: judy.chiou @bsmi.gov.tw
Press Contact: Lin, Ching-Yen
Tel. (O): +886-2343-1759; Tel. (M): +886-976-425601
Email: chingyen.lin@bsmi.gov.tw