:::
BSMI and INTN, Paraguay, Signed the Agreement on Technical Cooperation to Deepen Bilateral Economic Cooperation
Date:2021/03/29
Hits:1233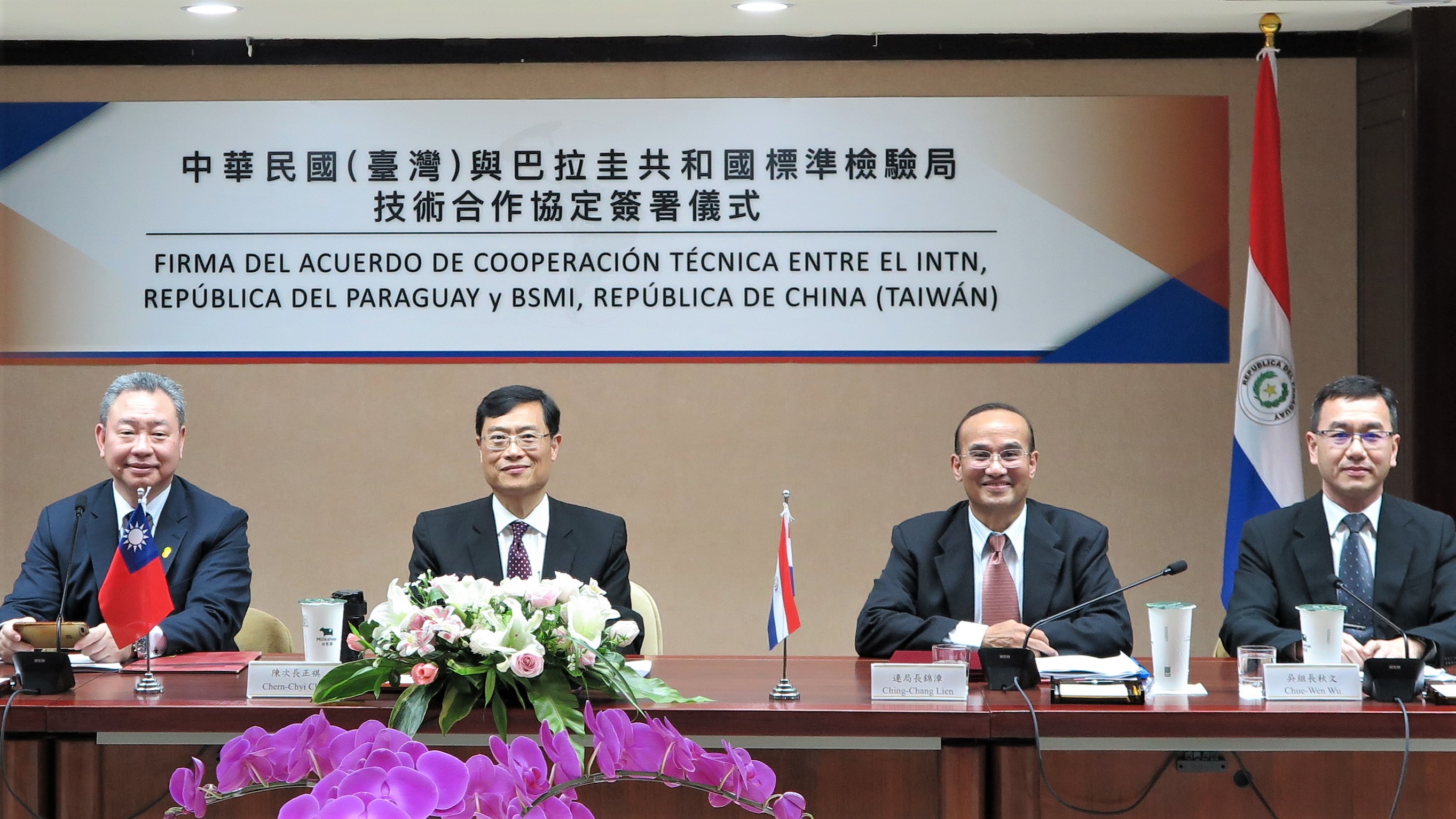 Dr. Ching-Chang Lien, Director General of the Bureau of Standards, Metrology and Inspection (BSMI), and Ms. Lira R. Gimenez, Director General of the National Institute of Technology, Standardization and Metrology (INTN) signed the Agreement on Technical Cooperation on March 18, 2021. The Agreement commits both sides to work closely towards the common goals of regulatory cooperation and trade facilitation. The signing was witnessed by Deputy Minister of Economic Affairs, Chern-Chyi Chen, and Vice Minister of Trade and Commerce, Pedro Mancuello Perez.
Deputy Minister Chen highlighted in his remarks that Paraguay is one of Taiwan's most valued trading partners. The imports from Paraguay rose by 85% in 2020 and Paraguay has become Taiwan's 2nd largest import country for beef. The Agreement on Technical Cooperation will bring new opportunities for bilateral trade in consumer products by harmonizing both sides'product safety systems.
The BSMI is the government authority responsible for developing national standards, administering legal metrology and regulating consumer product safety in Taiwan. It actively pursued cooperation with the INTN under the framework of the Economic Cooperation Agreement (ECA) between Taiwan and Paraguay signed in 2017. The BSMI and INTN will collaborate to exchange information and experts, as well as to promote joint projects that enhance capabilities and competitiveness of conformity assessment bodies of both sides.
The BSMI indicated that Paraguay is the only country in South America that has diplomatic relations with Taiwan and this Agreement strengthens the ties between the regulators and technical experts through standardization and conformity assessment activities. Consumers will also benefit by enjoying products that are safe and of good quality through cross-border cooperation. The BSMI looks forward to a long-term and productive partnership with the INTN to enhance the competitiveness of industry and facilitate bilateral trade.
BSMI Spokesperson: Ms. Chen, Ling-Hui, Deputy Director General
Tel. (O): +886-2343-1709
Email: lh.chen@bsmi.gov.tw
Responsible Person: Mr. Hung, Chuan-Hsiou, Deputy Director
Tel. (O): +886-2343-1788; Tel. (M): +886-936-037768
Email: john.hung@bsmi.gov.tw
Press Contact: Mr. Lin, Ching-Yen
Tel. (O): +886-2343-1759; Tel. (M): +886-976-425601
Email: chingyen.lin@bsmi.gov.tw