:::
BSMI and the Consumers Foundation Jointly Released Test Results of Air Fryers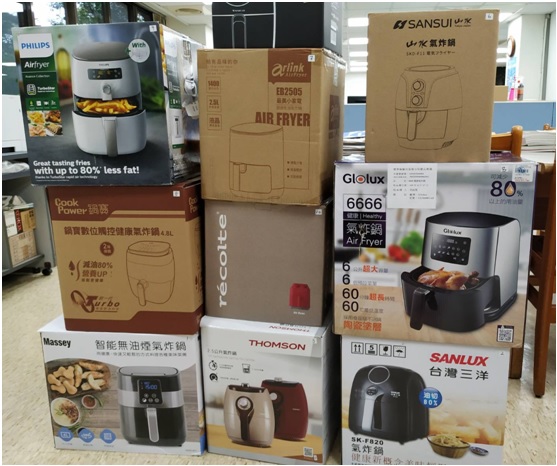 The Bureau of Standards, Metrology and Inspection (BSMI) in collaboration with the Consumers Foundation released the test results of air fryers randomly purchased from the market to check their compliance with relevant requirements. 10 air fryers were purchased from points of display in Yilan, Keelung and Taipei in June 2020. They were subject to labeling checks, comparison of key components and testing of quality items. The results showed non-compliance of 1 product in quality tests, 3 products in comparison of key components, and 3 products in labeling.
The product failing quality tests did not pass the test item of temperature, which went beyond the limit specified in the national standards and may lead to damages of surrounding articles or become hazardous due to its high temperature. The BSMI will rescind registration of the product under its mandatory product certification system and inform the company to recall the products within a certain time limit or take corrective actions. A fine of not less than NTD 100,000 and not more than NTD 1,000,000 will be imposed if the company fails to do so.
For the 3 products, of which the key components were different from those listed in the registration information, the companies are required to apply to the BSMI for approval of change of the key components. Registration of those products will be rescinded if the companies fail to do so.
For the 3 products that did not pass labeling checks, the BSMI will notify the companies to take corrective actions within a specified time limit. A fine of not less than NTD 100,000 and not more than NTD 1,000,000 will be imposed if corrective actions are not completed after the time limit.
The BSMI indicated that air fryers are subject to mandatory inspection and are not allowed to be released from production premises or imported before completion of the inspection procedures. The BSMI implements an annual market surveillance program to continuously monitor the safety of products on the market. In case non-compliant products are found, the BSMI looks into the causes, makes an interview report and take actions in accordance with relevant regulations.
The BSMI further reminds business operators of their responsibilities to place only safe products on the market and to ensure that products are properly labeled in accordance with the regulations. It also advises consumers to check the presence of Commodity Inspection Mark before buying air fryers.
BSMI Spokesperson: Ms. Chen, Ling-Hui, Deputy Director General
Tel. (O): +886-2343-1709
Email: lh.chen@bsmi.gov.tw
Responsible Person: Dr.Chen,Cheng-Chang
Tel. (O): +886-2343-1905; Tel. (M): +886-935-885350
Email: Chang.chen@bsmi.gov.tw
Press Contact: Mr. Lin, Ching-Yen
Tel. (O): +886-2343-1759; Tel. (M): +886-976-425601
Email: chingyen.lin@bsmi.gov.tw