:::
Establish accessible Design Standards for Digital TVs, and Promote the Accessibility of Audio-Visual Communication
Date:2020/10/05
Hits:1977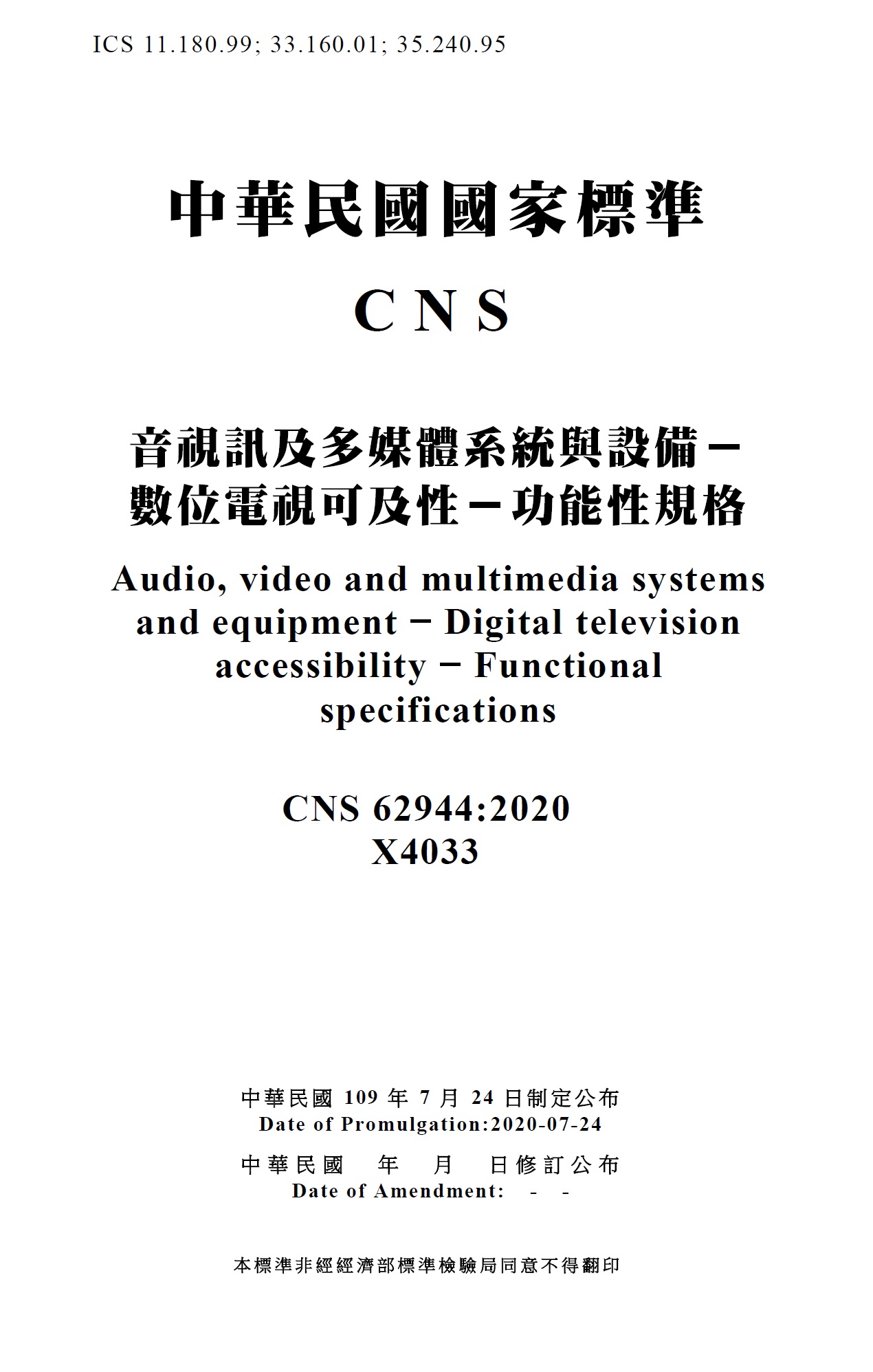 According to domestic studies, televisions have become the main viewing device in Taiwan. In order to promote the convenience and accessibility of televisions for the elderly as well as those who are physically and mentally challenged, the Bureau of Standards, Metrology and Inspection, Ministry of Economic Affairs (BSMI) established CNS 62944 "Audio, Video and Multimedia Systems and Equipment-Digital Television Accessibility and Functional Specifications." The standard can provide design guidelines for the accessibility features of digital TVs, protect the rights of the disadvantaged to access media information, facilitate the development of audio-visual accessibility products by manufacturers, create business opportunities for the elderly and accessible applications, and stimulate the development of the industry.
The BSMI has developed CNS 62944 according to the international standard IEC 62944, which targets four vulnerable groups (including the elderly with disabilities): the hearing impaired, the visually impaired, the ones with mobility impairment, and the ones with cognitive impairment. It is set to consider the accessibility (ease of use or accessible function) of products such as digital TVs, set-top boxes, digital TV recorders, etc., so that users can obtain audio-visual information without any barriers.
CNS 62944 provides design guidelines for the following main accessibility options (some of which are required in conjunction with program add-ons, such as the display of sign language):
(1) For the hearing impaired: Provide closed captioning (instructions for timely presentation of dialogues or sound effects), sign language display, visual feedback on operating menus, etc.
(2) For the visually impaired: provide an audio description (voice description for key video content), voice-assisted operation, speech recognition, screen magnifier, high-contrast display and more.
(3) For those with mobility impairment: Consider using one hand and one button to operate the remote control, easy to grip and hold, no need to point the receiver for remotely controlling.
(4) For those with cognitive impairment: Replace text with icons or symbols, provide explanations with labels, simplify menus and descriptions, etc.
According to statistics, by the end of 2019, there are nearly 5 million elderly and disabled population in Taiwan, so there is a demand for accessible services and opportunities for the industry. CNS 62944 provides design guidelines for the accessibility features of digital TVs, which can be used as a reference for product development and can be incorporated into product design depending on the accessibility requirements, creating an accessible environment for disadvantaged groups. It will also contribute to the development of industry and help our country move towards a welfare society.
The relevant standards are available on the Bureau's CNS Online Service (https://www.cnsonline.com.tw/), and are available for public access.
Spokesperson of the BSMI:Deputy Director-General Chen,Ling-Hui
Tel.(O):+886-2-3431709
Email:lh.chen@bsmi.gov.tw
Unit in Charge: Chang Chien, Hung-LI, Deputy Director of the 1st Division
Tel. (O):+886-2-23435168 Tel. (M): +886-933-499513
Email:sophia.cc@bsmi.gov.tw
Press Contact: Mr. Lin,Jing-Yen
Tel.(O): +886-2-23431759 Tel. (M): +886-976-425601
Email:chingyen.lin@bsmi.gov.tw