:::
Shopping for Dragon Boat Festival? Accuracy of Weighing Scales for Commercial Use Assured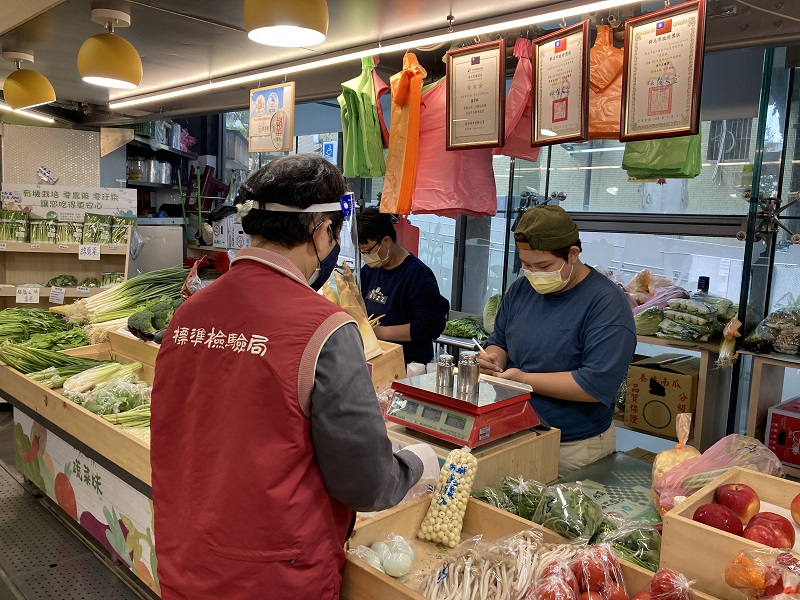 The high number of omicron confirmed cases in the past month may cast a shadow over family gatherings for this year's Dragon Boat Festival. Nevertheless, the customs of eating Zongzi (glutinous rice dumplings) and preparing dishes for worshiping purposes remain the core activities at this important event. The Bureau of Standards, Metrology and Inspection (BSMI) launched a nationwide inspection project prior to the festival to monitor the accuracy of weighing scales used for commercial transactions. The result showed a compliance rate of 99.9%.
6,284 scales used at 187 food retailing spots (traditional markets, supermarkets and hypermarkets) located in different cities around the nation were inspected. 6,283 of them passed inspection and 1 failed. The reason of failure is that the readings did not fall within the tolerance (consumers suffering losses). A "suspended" label was affixed to the non-compliant scale, which is subject to follow-up monitoring. Vendors will be fined with an amount at NT$15,000~ NT$75,000 in accordance with the "Weights and Measures Act" if they continue using failed scales.
The BSMI indicated that it would keep monitoring the accuracy of weighing scales used for commercial transaction by carrying out year-round inspection projects. It also encourages consumers to report to the BSMI or its branches by calling 02-23434567 (representative line) when they find weighing scales used for the transactions do not bear the verification mark "Picture as attachment file" or when they are suspicious about their accuracy. An investigation of reported cases will be performed to safeguard the interests of both the sellers and buyers.
Responsible Division: 7th Division
Contact Person: Chen, Horng-Lin, Deputy Director, 7th Division
Telephone No.: +886-2343-4585
Email: hl.chen@bsmi.gov.tw