Press Releases
BSMI holds international trend of metrology forum to celebrate the historic change in SI definition

點閱:3181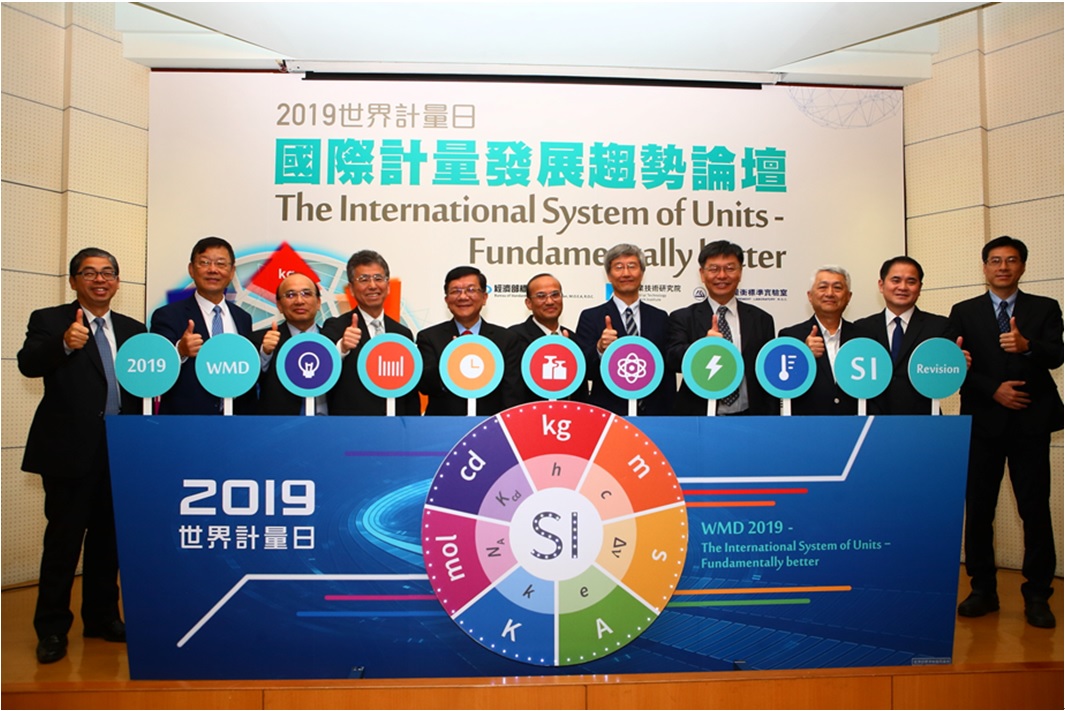 The international system of units (SI), including mass (kilogram), electric current (ampere), temperature (kelvin) and amount of substance (mole), is closely bound up with our lives and it is undergoing a historical change in definition. In response to the future development of quantum metrology and challenges of innovative application after the redefinition of the SI, which will be based on constants, the Bureau of Standards, Metrology and Inspection (BSMI) is holding a forum titled "The International System of Units–Fundamentally Better" on May 20 World Metrology Day, inviting International Organization of Legal Metrology Vice President Yukinobu Miki and International Committee for Weights and Measures Secretary General Takashi Usuda to interact with Taiwanese experts from the government, academia and industry on the above issues. The event hails the advent of a new era where quantum technology is used to define SI.
In his opening remark, BSMI Director-General Lian Jin-Zhang said that the bureau worked closely with the National Metrology Institute of Germany (PTB) last year to establish the first silicon sphere system in Asia. The system is to replace the international prototype kilogram (IPK), an iridium-platinum prototype that has been in use for decades, opening a new era of metrology where physical constants will substitute entities in SI definition. New systems regarding temperature, electrical current and amount of substance will also be completed one by one. This is expected to provide domestic traditional and hi-tech industries with accurate and stable metrology primary traceability systems in line with fast changing needs of global technology and trade, thus fostering Taiwan's industrial technology innovation and upgrade.
The BSMI said that amongst the special guests invited to the forum are International Committee for Weights and Measures Secretary General Takashi Usuda, Academia Sinica Institute of Physics Director Chang Chia-Seng, Precision Machinery Research and Development Center President David Chuan, AUO Crystal President Liao Shih-Hung, CMP Group President Lin Ting-Fang and Chroma ATE Inc. General Manager Tseng I-Shih. Experts from home and abroad will take part in a summit forum which is focused on how developments in metrology will change the role of the academia, industry, government and research institutes and the challenges of innovation application. Dialogues between all parties will also shed light on how recent developments in metrology will affect the work of public and private sectors, as well as the direction of innovation application.
The BSMI further pointed out that SI is an important backbone for the function of human society, as our daily life and high-end technology are both closed linked to SI. This year's General Conference on Weights and Measures (CGPM) will redefine four SI units—the kilogram, ampere, kelvin and mole—marking an important step in civilization. For example, the kilogram, or unit of mass, will be redefined using Planck's constant because of stability reasons. In the future, all SI units will be represented in physical constants so that standards will not change with time and place. Hence, the 5+2 Industrial Transformation Plan, IoT, big data and other innovative technologies will all be supported by a more accurate and stable measurement standard. The BSMI will continue to keep Taiwan's metrology up-to-date with the latest trends to satisfy the need for a more accurate and reliable measurement standard.
編修日期:2020/01/14
上稿單位:度量衡行政組度量衡規劃科
更新日期: 2023年9月27日