Press Releases
BSMI will hold international trend of metrology forum, inviting the public to explore the historic change in SI definition

點閱:2507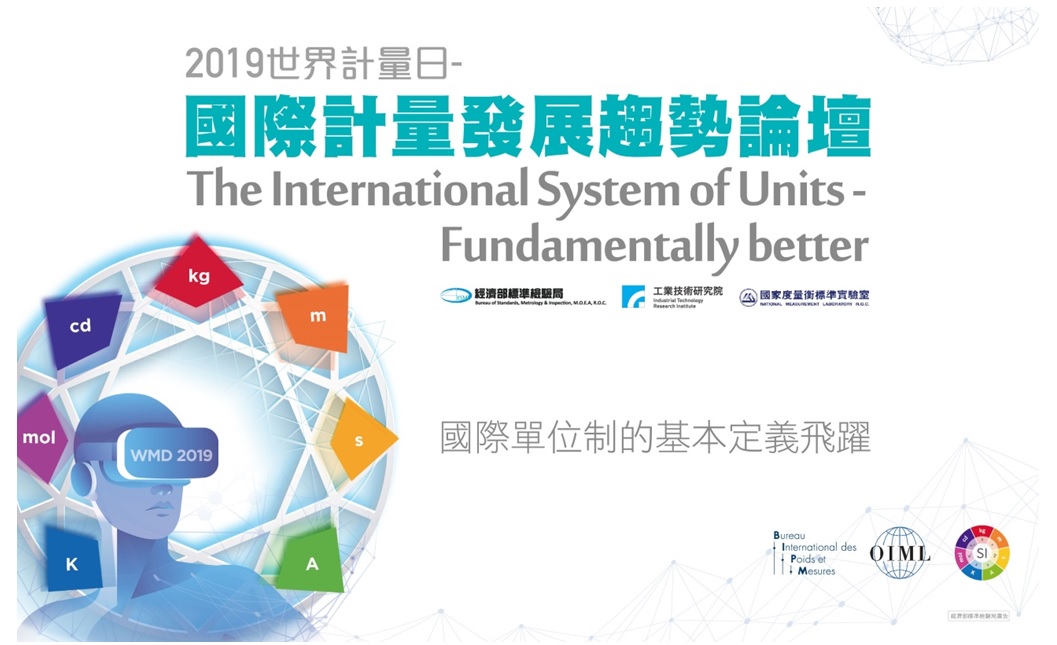 Redefinition of the international system of units (SI) will come into force on May 20, 2019 World Metrology Day. The Bureau of Standards, Metrology and Inspection (BSMI), the leading authority on national metrology standard, celebrates the World Metrology Day every year by holding activities. This year, the BSMI is organizing a forum on the development of international metrology. Titled "The International System of Units—Fundamentally Better," the event will take place on May 20 in the Industrial Technology Research Institute (ITRI) Kuangfu Campus in Hsinchu City.
International Organization of Legal Metrology Vice President Yukinobu Miki, International Committee for Weights and Measures Secretary General Takashi Usuda and Taiwanese representatives from the government, academia and industry are invited to take part in the discussion regarding the trend in quantum metrology and challenges of innovative application after the redefinition of the SI, which will be based on fundamental constants. The dialogue will mark the advent of a new era where quantum technology is used to define SI.
"SI Redefinition—Challenges for Next Generation Metrology" and "Trend of Modern Metrology and Quantum Physics" are the keynote speeches to be delivered at the forum. BSMI Director General Lian Jin-Zhang also invited International Committee for Weights and Measures Secretary General Takashi Usuda, Academia Sinica Institute of Physics Director Chang Chia-Seng, Precision Machinery Research and Development Center President David Chuan, AUO Crystal President Liao Shih-Hung, CMP Group President Lin Ting-Fang and Chroma ATE Inc. General Manager Tseng I-Shih to participate in the summit forum, which is designed to help the public quickly understand the significant influence of SI redefinition on domestic trade and technology. This is also an opportunity for all to understand the improvement and convenience brought about by the change in SI definition.
In response to the significant change in SI definition, the BSMI actively sought the support of the Executive Yuan's Directorate-General of Budget, Accounting and Statistics, Board of Science and Technology Office and the Ministry of Economic Affairs and allocated 514 million to create a SI standard system (inclusive of units for mass, temperature, electric current and amount of substance) that is in line with the new international definition. Both traditional and high tech industries in Taiwan will benefit from this accurate and stable primary traceability system, which is abreast with the latest trend and can satisfy the fast changing needs of global technology and trade. The system is also expected to contribute to Taiwan's industrial technology innovation and upgrade.
The BSMI further noted that the forum includes a tour to the new SI laboratory. Visitors can better understanding the influence SI redefinition on Taiwan's economy, trade, technology, welfare and other sectors, as well as witness a landmark in Taiwan's SI development. Registration for the forum will begin on May 14, 2019 at 10 am. As only 40 spaces are open, early registration is urged to assure availability. The online registration form is as follows: https://college.itri.org.tw/course/all-events/FA55B124-E50E-43D8-8B4A-3A8BFB34C6AA.html
編修日期:2020/01/14
上稿單位:第四組第三科
更新日期: 2022年7月1日