:::
Organization and Duties
1.Duties


The Standards Division is responsible for drafting standardization policies and regulations, as well as related issues concerning national standards, including research, preparation,

amendment, adoption, reaffirmation, withdrawal, implementation and promotion. There are four Sections in this Division. Description of each Section is provided below. The 1st Section is responsible for general standardization activities, including drafting regulations on national standards, publishing national standards, providing guidance on standardization, planning harmonization of national standards, administering the CNS Mark, compiling the standards gazette, and other matters relating to promotion of national standards.

The 2nd to 4th Sections are responsible for standardization in specific areas, including research, preparation, amendment, adoption, withdrawal, reaffirmation, harmonization, explanation and related matters. The 2nd Section is in charge of areas of mechanical engineering, electrical engineering, electronic engineering, information and communication, automotive and aerospace engineering, railway engineering, shipbuilding engineering and industrial safety; the 3rd Section in areas of civil engineering and architecture, ferrous materials and metallurgy, non-ferrous materials and metallurgy, nuclear engineering, chemical industry, textile industry, mining, ceramic industry and environmental management; the 4th Section in areas of agriculture, food, wood industry, pulp and paper industry, domestic wares, medical equipment and appliances, quality control, physical distribution and packaging, and other categories. The 4th Section is also in charge of standards-related international cooperation.


2. Organization Chart


The following figure illustrates the organizational structure of the Standards Division of the Bureau of Standards, Metrology and Inspection, MOEA.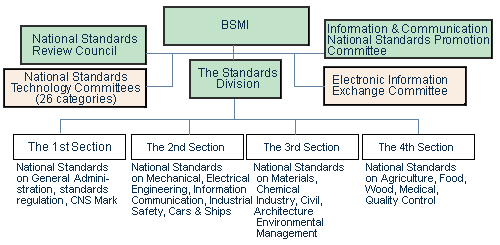 Organization Chart
˙1'National Standards Review Council
˙2 Information & Communication National Standard Promotion Committee
˙3 National Standards Technology Committees (26 categories)
˙4 Electronic Information Exchange Committee
˙5 The Standards Division
 。5-1 The 1st Section : National Standards on General Administration, standards regulation, CNS Mark
 。5-2 The 2nd Section : National Standards on Mechanical, Electrical Engineering, information Communication, Industrial Safety, Cars & Ships
 。5-3 The 3rd Section : National Standards on Meterials, Chemical Industry, Civil, Architecture Environmental Management
 。5-4 The 4th Section : National Standards on Agriculture, Food, Wood, Medical, Quality Control