Press Releases
Over 1 million T-RECs Issued: A New Milestone for T-REC Center!

點閱:533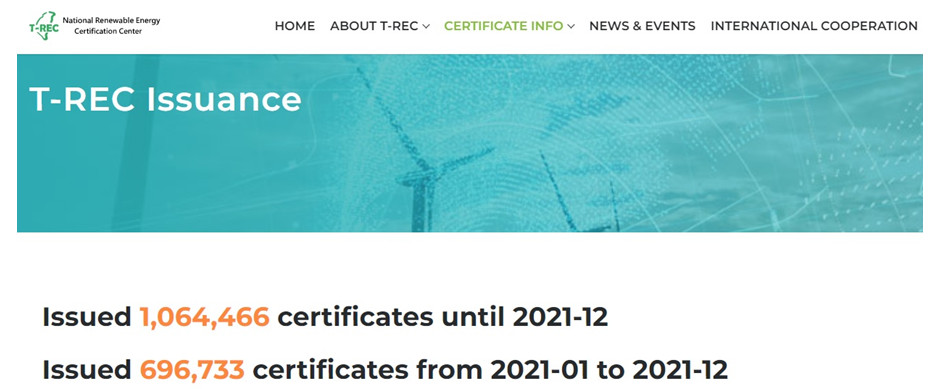 Taiwan Renewable Energy Certificate (T-REC), issued by National Renewable Energy Certification Center (T-REC Center) under the Bureau of Standards, Metrology and Inspection (BSMI), is the most reliable environmental attribute indicator in Taiwan. The first T-REC was issued in May 2017, and the number of T-RECs issued in February 2022 has reached the milestone of 1 million. This number is so meaningful in the development of green energy and REC in Taiwan.
As the concept of environmental, social and corporate governance (ESG) has become a global focus, T-REC can help corporates manifest the benefits of their dedication in environmental protection and sustainable value. To meet their needs for green power and T-REC, corporates can obtain RECs via direct supply, wheeling, or self-generation in Taiwan, as evidence for the use of green electricity.
Dedicated to promoting T-REC and green electricity trading, T-REC Center has registered 226 T-REC renewable facilities, issued more than 1.06 million T-RECs (approximately 1.06 billion kWh of green electricity, equivalent to carbon reduction of about 534,000 metric tons), and completed over 910,000 T-REC transactions (about 910 million kWh of green electricity). Since the introduction of green electricity wheeling in 2020, BSMI has facilitated cross-industry cooperation in areas of energy, electricity retailing, electronics, finances, biotechnology, cosmetics, legal services, and commercial office buildings. The introduction of green electricity wheeling efficiently increases the number of corporates using renewable energy.
To vitalize the market, BSMI actively holds transaction matching meetings, where companies in need of green energy are invited to communicate with the electricity retailing enterprises.
In addition to the green electricity wheeling transaction, the transaction volume of T-RECs for self-generation has increased yearly and the number of transactions has reached 10,000 cumulatively. Under the business opportunities driven by the needs of corporates to pursue environmental benefits, more and more local government agencies and schools are willing to follow the green energy policy and apply for T-RECs for their self-generation renewable energy sites. Electricity retailers also collaborate with social welfare organizations to create new business models. They built renewable energy power sites in the social welfare organizations and sold their T-RECs to corporates who have demand. It not only saves electricity bills, but the income from the sale of T-RECs also create additional revenue for the social welfare organizations. This helps promote energy transition and support the development of green energy industry in Taiwan.
Now, RECs has become a global trend because corporates are paying more and more attention to sustainable development and the use of green energy. T-REC system in Taiwan has earned domestic and international awards and been recognized by important initiatives, such as CDP and RE100, which can effectively assist corporates to link up with the world. On March 7-9, 2022, T-REC Center held a grand APEC webinar and invited representatives and experts from countries in the Asia-Pacific region to discuss renewable energy certification system in depth and promote the development of sustainable energy in the region. BSMI is glad to see more industries invest in the green energy market. It will also continue to explore various kinds of green energy and REC demand models in the industry and expand the application of REC.The latest news about green electricity transaction and T-REC is available at the website of the T-REC Center (https://www.trec.org.tw).
Responsible Division: 6th Division
Contact Person: Huang, Chih-Wen, Director
Tel. (O): +886-2343-1828
E-mail: wen.huang@bsmi.gov.tw
編修日期:2022/03/15
上稿單位:第六組綠能技術科
Latest Update: 2022年8月18日